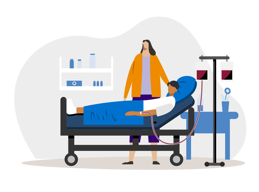 We encourage one parent or caregiver to stay with their child while they are an inpatient. A second parent care/giver is able to visit. Sometimes it will be possible for both parents to stay and this will be assessed on a case-by-case-basis.
Brothers and sisters cannot stay overnight on the ward. This is due to space restrictions and the need for staff to access patients quickly and easily at all times. The nominated caregiver must be over the age of 16 and able to look after themselves.
If your child has been admitted with COVID-19 symptoms, you must adhere to government guidance on self-isolation and remain in your room, where possible. Avoid visiting eating venues and shops.