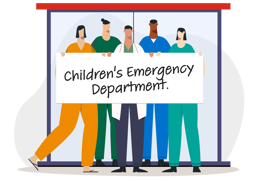 If you are worried your child is seriously unwell or injured, or you have been asked to come to hospital by your GP, you will need to come to the Paediatric Emergency Department.
At the moment things are a little different as we try to stop the spread of coronavirus. To keep you and your child safe our staff will be wearing personal protective equipment (PPE).
If you want to prepare your child to meeting staff wearing PPE, here is a video produced by Edinburgh Children's Hospital Charity.